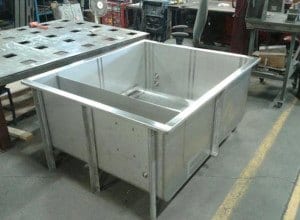 As a full-service provider of custom metal fabrication and related services since 1974, S&B Metal Products is a single source for all your part fabrication, welding, and finishing needs. We manufactured this stainless steel tank weldment for a customer in the latex coating industry, and built it to provide them with many years of maintenance-free service.
Well equipped with machinery to handle large assemblies, we cut 304 stainless steel on our workhorse 2500 Watt Mazak laser cutter and used our 250 ton Accurpress press brake to bend the pieces to shape. We utilized conventional and CNC drilling and saw cutting operations to add required additional features to the pieces, and employed TIG welding techniques, which allow a high degree of operator control and produce strong welds, to assemble the final piece. Deburring operations left the 66.50″ x 25.875″ x 55.750″ tank with a smooth, burr-free finish, and strict ISO 9001 compliant quality inspections at every step ensured that the finished piece was well within the ±.060″ tolerance requirements.
To learn more about our custom metal fabrication and stainless steel weldments, contact S&B Metal Products today.
HIGHLIGHTS