About S&B Metal Products
S&B Metal Products is a dynamic organization continually investing in new resources and embracing fresh ways to elevate the level of our services.

Founded in Macedonia, Ohio in 1974
Founded by Chuck Sterling & Paul Balliette
Expanded to Lakeland, Florida in 1986
Expanded to Bradenton, Florida in 1998
Expanded to Daytona Beach, Florida in 2002
Expanded to Apopka, Florida in 2018
Over 140,000 sq. ft. of fabrication space
170 trained and certified employees
The latest in fabrication equipment and technology
ISO 9001:2015 certified
Extensive customer base
Prototype to production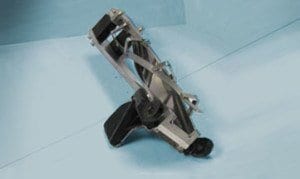 Representing our continued dedication to meeting our customers' specialized application needs, S&B Metal Products has recently expanded our Bradenton, Florida facility to include a 5,000 sq-ft shop solely dedicated to the fabrication of sanitary stainless steel components for the food and beverage, pharmaceutical, healthcare, and related markets. This expansion demonstrates our commitment to strategically positioning ourselves in a leadership role for providing the highest quality products to customers in these industries.
Inside the new, controlled-environment facility, our one to two shifts operate in eight delineated areas to control the flow of work through the production cycle. Inbound raw material is separated into discrete storage areas, and each fabrication process — sawing, machining, bending, welding, and finishing – takes place in a work zone outfitted with specialized equipment, dedicated stainless steel tooling, and covered tables and racks to help maintain a clean, contaminant-free environment. A dedicated inspection area, as well as a separate shipping operation, ensures parts are kept segregated until they are in the customers' hands.
This new facility, with its combination of advanced technology machinery and staff stainless steel experts, will help us more efficiently meet the requirements of our customers and solidify us as a trusted source for high quality parts.