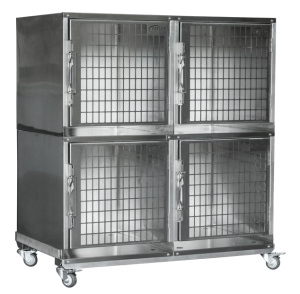 Working with one of S&B's major customers we were able to develop a stainless steel cage system to meet the majority of the veterinary and pet grooming industries' needs.
In the past our customer could only offer wood crates that would not meet the majority of these markets.
This new crate system, designed with our Solidworks Modeling software, is much more aesthetically pleasing and price competitive than what is available in the market today. Our laser cut doors, stainless steel construction, bending and welding processes, and ingenious banking system enables these cages to be unique while still being affordable.
To learn more about this project and our full line of crating systems, please contact S&B Metal Products today.
HIGHLIGHTS