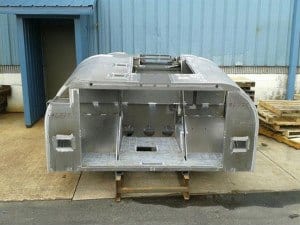 With over 100,000 ft² of fabrication space and the latest equipment, S&B Metal Products is the perfect source for all of your large part manufacturing needs. This 95.96″ long by 46.75″ wide steel weldment was fabricated by us for a customer in the military industry.
Working from the customer supplied 2D CAD drawings, our highly experienced engineering team laid out the framework for building all the components and sourced all the hardware required for assembly. Galvanized steel finished with a zinc rich primer was precisely cut on our CNC controlled Mazak laser cutter, which is capable of handling the large pieces required for this project. Our 250 ton Accurpress press brake was specified to bend the sheet material at the desired angles and with the required curves. Highly skilled welders used MIG welding techniques to create the large assembly, and insertion of fasteners completed the final build operations.
Dimensional inspection verified that the finished steel weldment was within the ±.030″ tolerances and all curves were within ±2ᵒ of the specification. In addition, the part was marked in accordance with the MIL-STD-130 specification.
To learn more about this project or any of our sheet metal fabrication and welding services, contact S&B Metal Products today.
HIGHLIGHTS