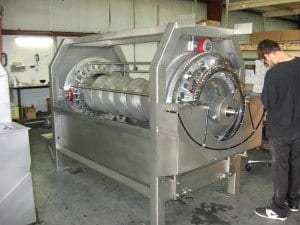 As stainless steel specialists with expert knowledge of NSF and FDA requirements, S&B Metal Products offers a high level of custom metal fabrication services to the food industry. This large, complex stainless steel tank auger assembly, measuring 10′ x 6′ x 5′, was fabricated and assembled in our modern facility by a team of specialized technicians in only four short weeks.
Working with 304 stainless steel, we laser cut blanks for the frame assembly as well as employed conventional CNC machining techniques, such as saw cutting, drilling, and milling to fabricate the many other multi-featured components of this tank auger. Using a press brake to bend all the pieces to the desired shape, the frame components were welded using TIG methods, which would provide the best structural integrity, especially on the thinner sections. Deburring, grinding, and bead blasting operations were completed on parts to ensure all finishes were compatible with a food processing application, and strict quality checks at every stage ensured that all tolerances were held to ±.015″. Having procured all the additional hardware, we assembled, tested, and shipped the unit to a customer in Pueblo, Colorado. The very satisfied customer contracted with us to produce five of these units.
For more information on this project or how our custom metal fabrication services can help you with your application, contact S&B Metal Products today.
HIGHLIGHTS