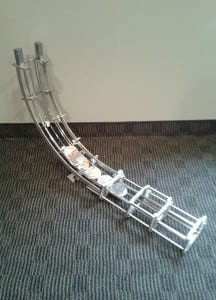 Serving customers in a broad range of industries, S&B Metal Products recently produced this stainless steel chute for a customer in the bottling industry for use within a capping application.
Working from customer supplied 2D CAD drawings, our engineering team developed the most effective methods for fabricating this unique piece of equipment. Our 2500 watt Mazak laser was used to precision cut 304 stainless steel blanks with burr-free edges and a vertical band saw was used to make the final cuts needed to form the sections. Our technicians used a multi-functional CNC milling machine for the drilling and tapping operations as well as to countersink the holes. TIG welding was specified as the preferred technique for the final assembly, giving the operator great control over the intricate, high-strength welds that would enable the chute to provide a long service life in their bottling operation. With overall dimensions of 17.00″ x 19.00″ x 5.00″, the piece was manufactured to within the tight .010″ requirement of the specification.
To learn more about this project or the full range of our custom metal fabrication services, contact S&B Metal Products today.
HIGHLIGHTS