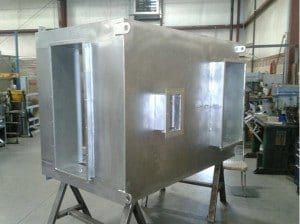 This aluminized steel heater box, manufactured for a customer in the automotive industry, demonstrates how S&B Metal Products serves as a one-stop source for complete metal fabrication services.
To form the 6′-6″ x 4′-8″ x 4′-0″ heater box, we laser cut aluminized steel on our 2500 watt Mazak laser to produce blanks with a high-quality edge finish, which would minimize finishing operations. We then employed a 250 ton Accurpress press brake for the subsequent bending operations. Our skilled fabricators used additional machining techniques, including CNC saw cutting, drilling, and tapping to produce the other components required for the finished piece. Certified welders utilized TIG welding techniques to produce strong, high quality welds for final assembly – operations also included stitch welding the angles to the tank on both the inside and outside. Tight tolerances of .030″ were maintained throughout the manufacturing process.
Having the right equipment and the right people to do the job gave us the ability to produce 4 of these units in less than 4 weeks for a customer in Cleveland, Ohio. To learn more about how our wide-ranging metal fabrication services can help you with your application, contact S&B Metal Products today.
HIGHLIGHTS